New Jersey Educator Wins National ProStart "Educator of the Year"
Contact: Karen Geisel
518-421-3435 or kgeisel@njrha.org
FOR IMMEDIATE RELEASE: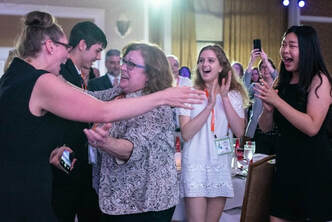 Washington, D.C. -- For the first time in the National ProStart Program's 26-year history, a New Jersey teacher was selected as the "National Educator of the Year" at its annual ProStart Invitational hosted recently by the National Restaurant Association in Washington D.C. Mary Beth Brace, a Bergen County Academies instructor and chef was surprised with the top award and $10,000 in cash in front of her students and peers.

The 21-year teaching veteran and 16-year ProStart instructor is fondly referred to on campus as "Chef B." Brace has been teaching the ProStart curriculum in New Jersey almost since it's inception and was named the Garden State's (NJREF) "Educator of the Year" last March, making her applicable for the national honor along with every other state award recipients.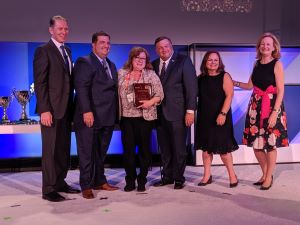 "I can't express the myriad of emotions I felt at being selected for this high honor," said Mary Beth Brace, "It was truly a full circle moment, one that I will always cherish as the highlight of my career. Also, imagine my pride when I saw a former student of mine (I taught 19 years ago) judging my current students. This young man is now the executive chef and R/D Director for Bonefish Grill Corporate!" she added.

New Jersey's ProStart program is the only homegrown educational platform that acts as a feeder for the diminishing workforce of the Garden State's $16 billion restaurant industry. Most of the 2,000+ participating ProStart students graduate ServSafe-certified which makes them immediately employable in the industry.

For more information on the ProStart Program, national award or competition, contact us.

# # #