NJ's Law & Legal System
Services and resources regarding NJ law and legal system below as it pertains to the hospitality industry provided by Mandelbaum Barrett PC

---
Exclusive NJRHA Member Benefit: Free 20 minute consulting call with Gary Young, a Partner at Mandelbaum Barrett PC and NJRHA Consultant
About Mandelbaum Barrett PC
Mandelbaum Barrett PC takes pride in being the premier law firm in the Tri-State area for bars, restaurants, hotels, chefs, and all food and beverage outlets. The Mandelbaum Barrett PC experienced legal team provides comprehensive legal services to a diverse range of clients, including first time entreprenuers, multi-unit operators, hotel F&B management groups, general managers, chefs, developers, and all other industry folks.
Their team of attorneys have a deep understanding of the challenges facing businesses in this dynamic industry and work tirelessly to provide cost-effective practical and efficient legal services that exceed their clients' expectations. Mandelbaum Barrett PC works closely with clients to develop personalized legal strategies that meet their specific needs.
The team offers guidance and representation in a range of areas critical to success in the hospitality industry, including hospitality and alcoholic beverage industry, corporate and business law, intellectual property law, real estate, zoning, environmental law, and labor and employment law.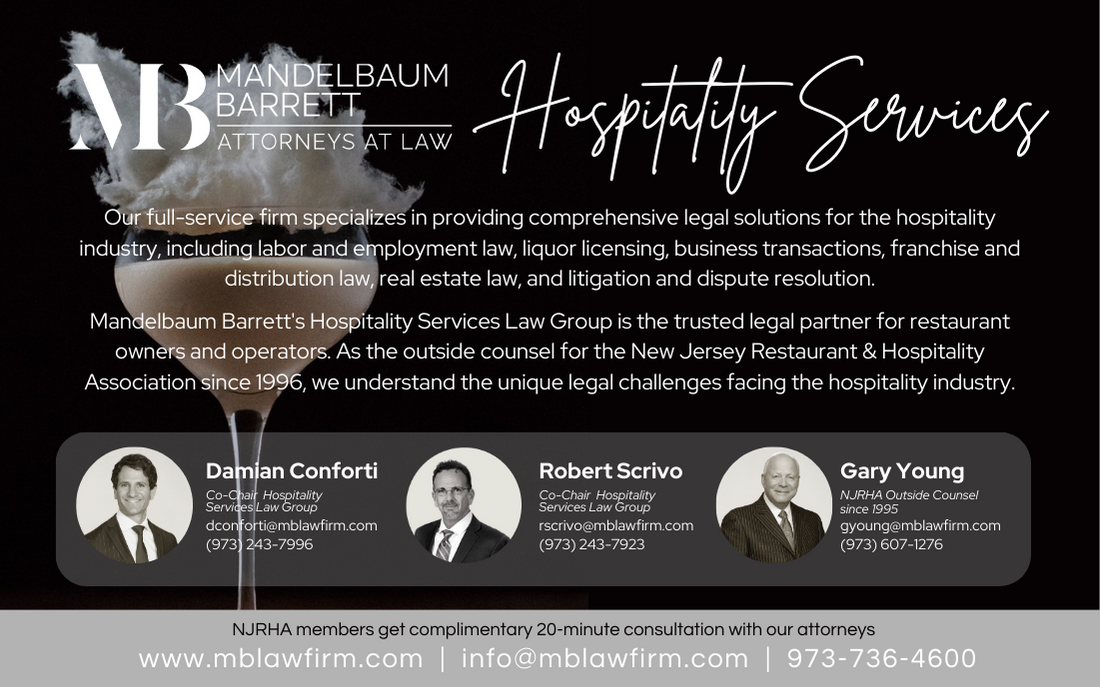 Contact the Mandelbaum Barrett Team Today
---
Services Provided
Corporate & Business Law
Negotiation of contracts and financial participation: shareholder, investor, and limited liability company (LLC) agreements; license agreements-restaurants and hotels, management agreements- restaurants and hotels; publishing agreements (cookbooks, hotel, histories, and photographic collections); franchise agreements, vendor, production, and supply agreements

Business transactions: partnership formations, acquisitions, financing, banking acquisition, sale, or transfer of business and business assets
Hospitality & Beverage Industry
Consultation on hospitality concepts and models

Selection of viable location

Structure of formation of business

Obtain all necessary licenses and permits, including liquor licenses issued by the New Jersey Division of Alcoholic Beverage Control Board

Defense of Alcoholic Beverage Control Laws, Rules, and Regulations

Obtain wholesale and importer permits and register alcoholic beverage labels with the US Alcohol and Tobacco Tax & Trade Bureau
Intellectual Property Law
Trademark and trade name investigation, registration, and defense
Copyright protection of logos and menus
Trade secret protection of brands and proprietary products
Real Estate, Zoning, and Environmental Law
Local, state, and federal land use and zoning ordinances, including building code and sanitation requirements

Commercial leasing and real estate acquisition

Landlord/tenant disputes

Premises liability
Labor & Employment Law
Employment contracts and agreements, including non-compete agreements, and employee disputes
Federal and state law compliance and defense, including employment law litigation, wage and hour litigation, labor relations and labor litigation, and management compliance training

---
Mandelbaum Barrett PC takes pride in providing top-notch legal services that go above and beyond their clients' expectations. Whether you're a first time entrepreneur or a multi-unit operator, the team is committed to helping you achieve success in the highly competitive world of hospitality. Contact their hospitality services team today to learn more about how they can help your business thrive.
---
Webinars and Resources
Intellectual Property Laws For Restaurants (4.21.23)
Topics include protecting your brand, menu, and recipes. Discussion takes a deeper dive into three kinds of IP: trade secrets, copyrights, trademarks, and a subset of trademark law- trade dress.
Creating a Five-Star Employee Handbook: A Menu of Best Practices for Hospitality Businesses (3.20.23)
Topics include how an employee handbook can open the path to communication with employees, why an employee handbook is an essential tool for any business and critical for success, an outline of an employee handbook, and more.
---
Fair Labor Standards Act (1.31.23)
Topics include understanding the Fair Labor Standards Act, NJ law, minimum wage, exempt vs non-exempt employees, exempt from overtime, tips for employees, real life scenarios to understand the law, and more.
---
Wage & Hour Compliance (11.1.22)
Restaurants and those in the Hospitality Business should not rely on a faulty or simply wrong understandings of wage & hour laws. Mistakes can be very painful. We know that running a business carries many risks. When it comes to wage & hour compliance, knowing and following the law is never optional.
---
Penalties Involving Fraud in PPP Loans Webinar (7.26.22)
Topics include defending the proper use of PPP money, how to avoid criminal prosecution, what to know if you are being investigated for PPP Loan fraud, and more.
---
Wage & Hour Compliance Webinar (2.16.22)
Topics include determining employment status, wage theft, tip pooling, and more.
---
To Learn More:
Visit Mandelbaum Barrett PC or contact Gary Young: gyoung@mblawfirm.com
---
For a personal introduction to one of our Vendor Partners please contact NJRHA Director of Partnerships Tory Nowak:
tnowak@njrha.org