Matt Barone of Kearny High School Named 2018 Educator of the Year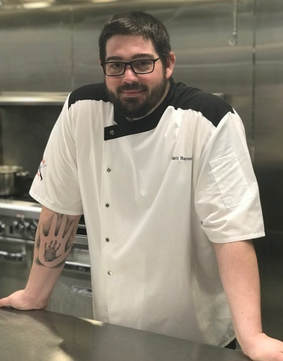 TRENTON, NJ – Chef Matt Barone of Kearny High School was selected as the New Jersey Restaurant Educational Foundation's 2018 ProStart "Educator of the Year." The teaching veteran's dedication and passion in teaching the ProStart curriculum has made him the perfect choice to represent the Garden State at the National Educator of Excellence Awards in Chicago this May.
Chef Barone has developed an impressive Culinary Program at Kearny High School by expanding Culinary Arts to two years, collaborating with community businesses to introduce an internship program, and cultivating a baking and pastry program. These programs are positioned to thrive within the school's newly developed Culinary Arts Center.
"Without teachers like Matt, our program wouldn't be as successful as it has become. He cares for his students long after they complete the ProStart program and quite often will assist them in finding jobs and building careers in the hospitality industry," said Marilou Halvorsen, president of the New Jersey Restaurant & Hospitality Association.
ProStart National Educator of Excellence Awards recognize, reward, and promote educators who demonstrate excellence in the classroom with passion, commitment, and creativity in all aspects of the ProStart program. Awardees receive a trip to the 2018 Educator of Excellence Awards (EEA) in Chicago, where they will be honored at the EEA Awards Dinner on May 18th. They will participate in special educator programming, including a walking tour of Chicago restaurants, and attend the National Restaurant Association Food Show.
"After over a decade in the hospitality industry and nearly a decade in education, I've been fortunate to build a network of professionals who share my passion to engage students so they can maximize the opportunities available to them before, during, and after the ProStart program." said Chef Barone when asked about the role of a ProStart teacher. "Since earning my master's in educational leadership, I have focused my efforts in mentoring each student so they can discover their passion and find success by applying it in the right environment," he added.
The ProStart Program is nationwide, and continuously growing in New Jersey. There are currently 18 schools involved in the program, representing 12 counties.