"Top Chef" Meets "Shark Tank": NJ ProStart Invitational
Date posted
February 24, 2023
New Jersey high school culinary arts students are gearing up for the 2023 NJ ProStart Invitational, a "Top Chef" meets "Shark Tank" competition. Culinary teams are challenged with creating a three-course fine dining menu and preparing their dishes in under an hour with no electricity or running water. Management teams are tasked with creating their own business model. From the restaurant concept to the floorplan, menu, staff, marketing and more- they bring their creative vision to life. With scholarship money at stake and the opportunity to represent NJ against all 50 states at the National ProStart Invitational students are striving to perfect their presentations.
As President/CEO of the NJ Restaurant & Hospitality Association, Dana Lancellotti is also the President of the NJ Restaurant Education Foundation. She finds inspiration in the Prostart Program and says, "The promise and inspiration of these young aspiring Chefs and Restaurateurs is a testament to the workforce of the future. We are very proud of the culinary arts and management students in our Prostart Program and look forward to seeing them shine in competition once again."
Leslie Steele, VP of the NJREF & Chief Operating Officer for the NJRHA has been sustaining the ProStart Program since May of 2013 explains, "ProStart is both a curriculum and a program that focuses on culinary arts and restaurant management. A lot of high school culinary programs focus on culinary arts, but the way the ProStart Program is designed allows educators to provide managerial skills and education with students. These tools allow students to excel in college, or dive right into the industry with the skills they need to begin building a career."
MCST, Morris County School of Technology's culinary team of five sophomore students will be competing for the first time in 2023. Rami Hassan, Hudson Darmanin, and the team are eager for this year's competition on February 28th. Practicing during class, after school, utilizing multiple group chats to stay on top of communication, the team is open to new ideas, understanding the importance of pivoting and readjusting with an open mind in the industry.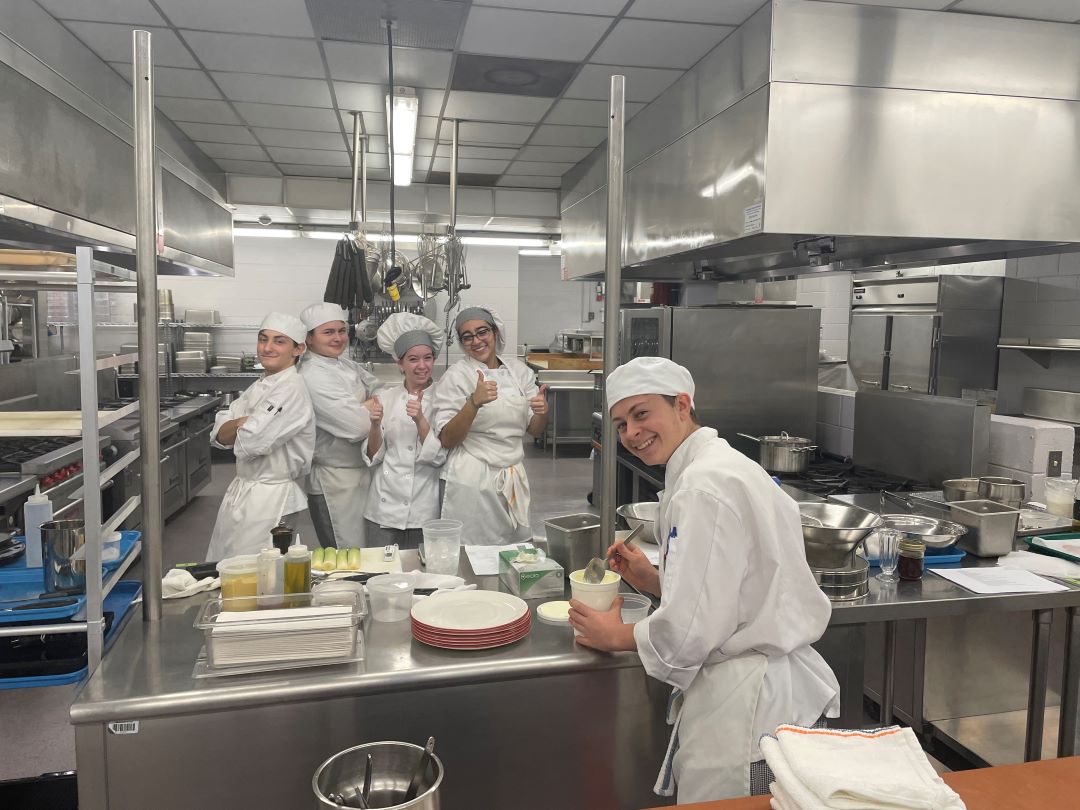 Rami Hassan's interest for food science led him down the culinary path. How yeast reacts with sugar, turning that into bread. How fat can't mix with water. His love for the food of his own culture influences his dishes and passion. "I'm Egyptian and I love cooking Arabic food. The flavors in Egyptian food are vibrant. I admire their cooking techniques."
Hudson Darmanin, Team Captain for MCST, shares, "In middle school I started to cook on my own. My family does the 7 Fishes for Christmas, and the ability to get into traditional Italian dishes sparked my interest in culinary. This year I prepared Octopus and Baccalá for Christmas dinner. In middle school, I said to myself- it's not just Italian. What other cuisines are there? I found a love for Japanese and Indian cuisines. When my parents, who have a great appreciation for food and the industry, started to talk about high school, I knew I wanted to be a chef. We looked into ProStart at MCST and it seemed right for my future."
Teams are judged by volunteers of NJ's hospitality industry leaders. Hassan and Darmanin are most excited for the judges' feedback, and to see what the other schools are preparing. Knowing how hard they have been working these past few months and that the other teams are incredibly talented, it's going to be fun to see what other teams accomplish under the restrictions- that being one of the biggest challenges they said. Culinary students are critiqued on knife skills and organization, menu and costing, teamwork, and taste. All of which are covered in the ProStart curriculum.
"ProStart is going to look great on my college resume. I'm learning technical skills, such as knife skills. Personally, I love plating- making the food look as appealing as it tastes. That's my favorite. While skill is involved, it's delicate and takes lots of practice," Hassan shares.
"Freshman year the first thing you learn is eggs for two to three months. It's great because you learn about precision in cooking specifically with eggs, and hone down on your skills." Darmanin states on the ProStart curriculum.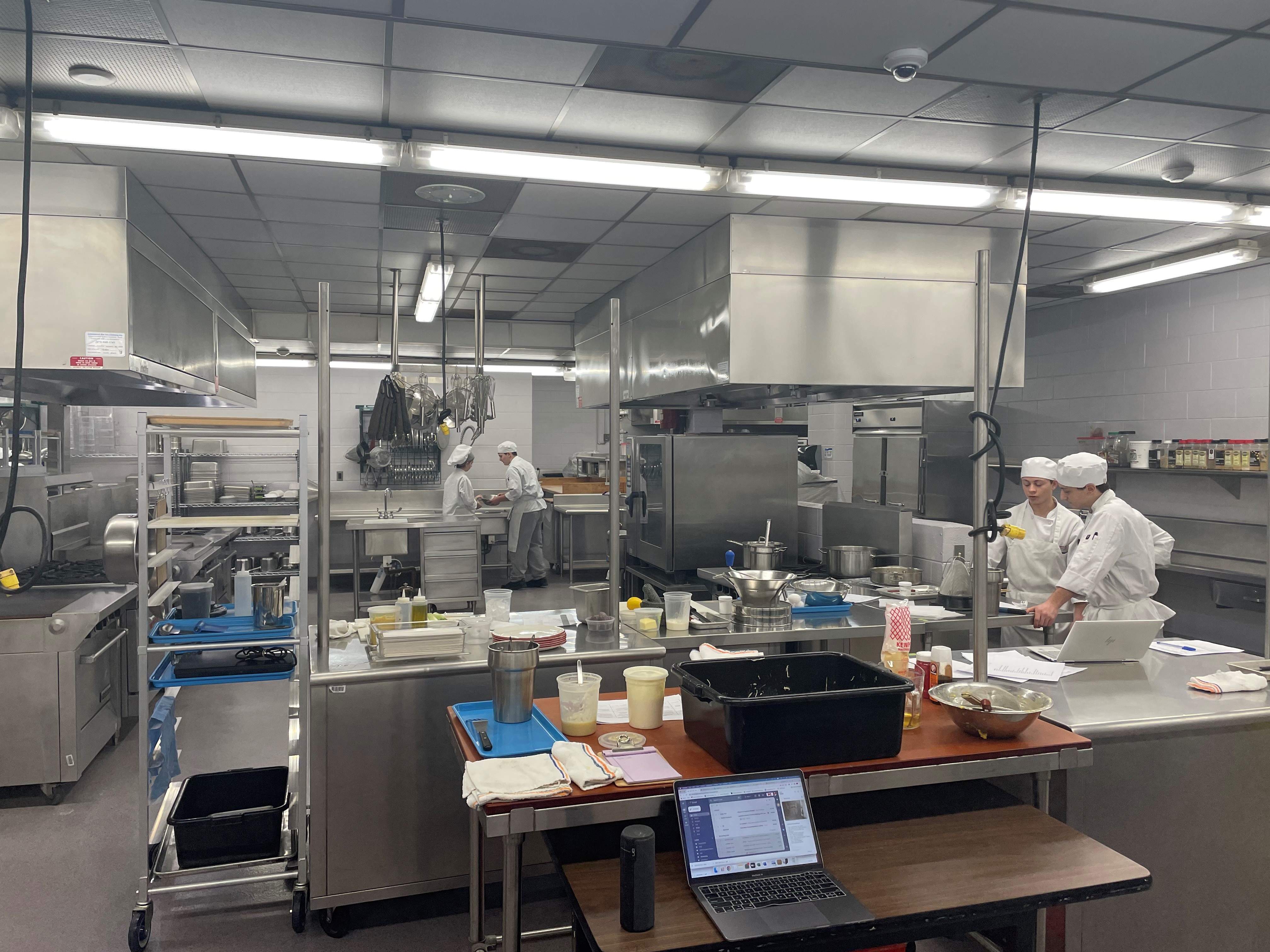 ProStart student graduates take on various careers. "Students I know traveled the world as chefs. Others I know have become culinary teachers themselves, nutritionists, executive chefs, and a few have opened their own shops. Some students also chose an entirely different career path. Skills taught in this industry are transferable to any industry." Leslie Steele says.
Xadea Green, 19-year-old NJ ProStart Coordinator for the NJREF, was a ProStart Student at Mercer County Technical School and participated in the Management Competition for two consecutive years. "It's a full circle moment for me. My first role in the industry during my freshman year of high school, was the Garde Manger at a local upscale restaurant. If it wasn't for my ServSafe Manager Certification through ProStart, I wouldn't have been qualified for the job at my age."
Enmely Soriano, former Passaic Technical ProStart Invitational Champion of NJ Culinary Competition in 2010 & 2011, and National Invitational Competitor in Kansas & Texas, volunteer judges at the NJ ProStart Competition and has judged the National ProStart Invitational twice.
On how ProStart helped her open her own pastry cafe, Bella Vida, in Clifton, NJ, Soriano reflects, "Bakery was not my background. I started from scratch putting in the time to craft my recipes. It was a huge risk for me opening Bella Vida during the COVID pandemic, but ProStart taught me that this industry is all about grit, risks, thinking on your feet, and commitment. For ProStart, if we had a 5AM practice and no one could take me, I would hop on the bus to school. My ProStart coaches were dedicated to our success and would be there with us at 5AM."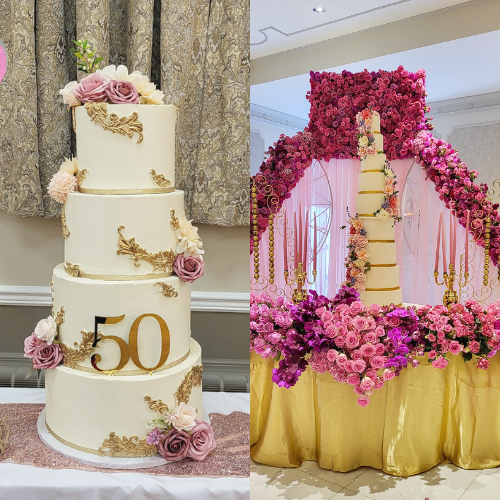 For competition day Xadea Green's biggest advice for the students is, "You know what you're doing like the back of your hand, so get in the zone and compete like nobody's watching! When you know that you didn't give up in times that you wanted to and left it all out on the competition floor, no matter the outcome you are grateful and proud of everything you did."
The 2023 NJ ProStart Invitational is free to attend 2/28/2023 from 9AM-1PM at the Grand Marquis, Old Bridge NJ.
To attend the Culinary Showcase & Awards Ceremony (1PM-4PM) following the invitational please purchase your tickets here.