Advocacy main course for NJRHA's Halvorsen
Date posted
April 26, 2018
Article originally published by NJBIZ on April 23, 2018.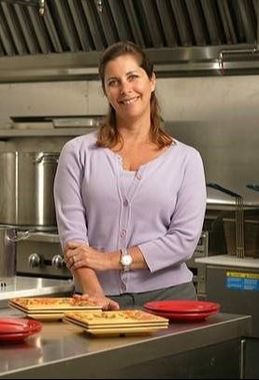 Marilou Halvorsen's resume makes it clear she's good at getting things done. The president of the New Jersey Restaurant & Hospitality Association has a long track record in event management and advocacy for her industry.
After starting her career working on big-ticket events at Radio City Music Hall, Halvorsen traveled the country with other Radio City expats, running events such as Welcome America, Philadelphia's weeklong Fourth of July celebration, through their events management outfit Entertainment on Location.
Marriage and child-rearing brought her back to New Jersey, where she became the executive director of the New Jersey Amusement Association. Her connections there led her to a 15-year career at Jenkinson's Boardwalk in Point Pleasant, a member of what then was known as the New Jersey Restaurant Association. She took over as president of the NJRA in 2012 and changed it to the NJRHA in 2015 to acknowledge its lodging members. There she's led the charge in advocating for 27,000 food-service businesses in the Garden State. When she recently spoke to NJBIZ, Halvorsen was in Washington, D.C., for the National Restaurant Association's Public Affairs Conference, gearing up to talk to lawmakers about important issues in the industry.
NJBIZ: What issues are you addressing in D.C.?
Halvorsen: Immigration is obviously one on our list. A lot of restaurant employees are first-generation immigrants. And the job market is tough. Having the visa program — H-1B visas, or J-1 visas that a lot of our seasonal businesses rely on — it's important. We're concerned about making sure the Trump administration understands how important these visa programs are for the restaurant industry.
NJBIZ: What makes these visa programs so important for the restaurant industry?
Halvorsen: The J-1 visa is a work-travel visa. They come here, work for a few months, travel for a month, and go home. A lot of our seasonal businesses rely on that. But the agriculture industry scoops up a lot of those visas, which doesn't leave a lot for hospitality. So they're approving an additional 67,000 H-1B visas. Visas help seasonal businesses operate on their shoulder seasons. They'll open in April before school's out, and they stay open until September when school is back in session. Having those visas available helps these business operate in a time when the majority of their domestic employees aren't yet available.
NJBIZ: Is minimum wage going to be part of the conversation?
Halvorsen: We're not talking about it in Washington, because this is state issue. We're having our advocacy day in our state May 10 where this will be addressed. Locally, we just went through addressing [the New Jersey Paid Sick Leave Act]. We actually worked really hard having the New Brunswick Ordinance model used, where employees accrue one hour of paid time off for every 30 hours worked, because we understand that you don't want people coming sick in a restaurant but you still have to allow the businesses to operate. When the New Brunswick ordinance happened [in 2016], we participated in getting some of the language drafted that helped the hospitality industry. We work to make sure that those more business-friendly amendments are present in the legislation. We thought it was a great compromise between business and the people.
NJBIZ: So political advocacy is important.
Halvorsen: Yep. State, local, and national obviously since I'm here [in D.C.] right now. Bills and legislation going through the Legislature, and working with state agencies of Department of Health, Alcoholic Beverage Control. Most regulations affect the restaurants in some way, so we just make sure we keep all the restaurants represented and updated.
NJBIZ: The NJRHA's official opinion on a minimum wage hike is opposition to an automatic $15, but in support of incremental increases. What would be a good alternative for the industry?
Halvorsen: You need to look at the affordability of the state of New Jersey. Even at $15 an hour, it's hard to survive. I think people get confused with living wage and minimum wage. Minimum is supposed to be just for young kids starting out. You can look into having other types of wage like youth wage or training wage. Additionally, say all of a sudden the economy is going terribly. Obviously you don't want to decimate business because it's already suffering. [Build something into the legislation that will] put the automatic increase on hold so that the industry can catch its breath.
The restaurant hotel industry hires at a 5-10 mile radius within the community. When you hurt restaurants, you hurt the community. That's where kids get their first jobs; people get jobs to put themselves through school; mom gets a part-time job while kids are in school. Doing things in a slow methodical fashion, so you're not hurting the businesses and people. That's the way you have to do it.
NJBIZ: In your previous position of director of marketing at Jenkinson's, you were the first woman to become chairman of the Legalized Games Chance Control Commission, which regulates raffles and boardwalking. How did you get there?
Halvorsen: Their board is made up of people from the industry, and I was appointed by three governors. They needed a secretary, and of course they looked at me, the woman. But when the board chairman passed away, I automatically became the chairman. I think it was in the bylaws that my position would replace it, or maybe policy. They gave me the role of secretary thinking 'she's the female,' but then I became chairman. It was pretty funny.
NJBIZ: Hurricane Sandy hit the first day you started as president, right?
Halvorsen: My very first call was Chef David Burke, who was in Rumson at the time. He had all this food to feed the first responders, and they needed to keep refrigerators running for it. He needed generators. Everything was crazy with that hurricane.
NJBIZ: Have you ever worked in a restaurant yourself before?
Halvorsen: A few. I've been a hostess and a bartender. … Most people, either themselves or someone in their family, have worked in a restaurant. It's the largest private sector employer in the state. The government is the largest employer in the state, the hospitality industry is the second.
NJBIZ: Does your experience in the restaurant inform you now?
Halvorsen: Well, those kind of jobs do two things. They teach young kids work ethic, showing up on time and also how to deal with the public. Kids learn how to have good customer service. Now, even behind a desk, you still have to deal with people. I don't care how long you work in one, if you work in a restaurant, the skills you learned there will carry you throughout your career. Whether it's dealing with your customer or your boss, how to show up on time, accountability ... I think every kid should have that. You learn your eye contact and your 'please and thank yous.'
NJBIZ: Do you have any favorite restaurants in the state?
Halvorsen: We have so many good ones. In New Jersey, we have every kind of restaurant, so much ethnic food. We have more ethnically diverse restaurants than anyone. And it's authentic. You know when you walk into a Korean restaurant, if you see Koreans in there, that's the Korean food you want. And you see Mexicans in a Mexican restaurant. That's where you want to eat. I am not a picky eater, though. I love all kinds of food. I'll try anything.
NJBIZ: Sounds like this job is perfect for you then.
Halvorsen: It is. New Jersey is a culinary destination. That's what makes this state so great.