Back to Donations
NJ Restaurateurs Good Government Fund
NJRHA PAC Donations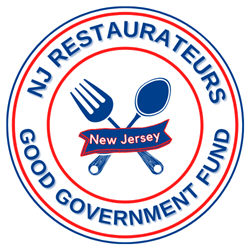 Support The NJ Restaurateurs Good Government Fund
Thank you for your interest in supporting the NJ Restaurateurs Good Government Fund, a Continuing Political Committee (CPC). With your assistance, we can continue to advocate for the success of our vibrant hospitality industry in New Jersey that employs over 200,000 people.
How Can I Contribute?

Donations can be made online or by check made payable to the "NJ Restaurateurs Good Government Fund" and mailed to 126 West State Street, Trenton, NJ 08608, along with this form. Cash contributions are not accepted.
See below for suggested donation amounts:
$1,000
$2,500
$5,000
$10,000
Contribution Rules and Regulations
All contributions are subject to the limits set by the NJ Election Law Enforcement Commission. An individual or company is limited to a maximum donation of $14,400 per year.
Any donation in excess of $200 per year must be attributed to an individual for state election reporting rules. Required information includes the contributors' name, mailing address, occupation, and the name and mailing address of the contributors' employer.
A contribution made through a credit card issued to and in the name of an individual or corporation will be attributed to that individual or that corporation.
LLC & Partnership Contribution Regulations
A partnership or limited liability company (LLC) may not contribute as an entity. However, contributions may be made through a check or credit card issued to a partnership, limited liability partnership, or limited liability company if the contribution is attributed to a partner or member of that entity, and the contributor indicates the name of the partner or member making the contribution.

Contributions are not deductible for income tax purposes.